23 Days Kanchanjunga Trekking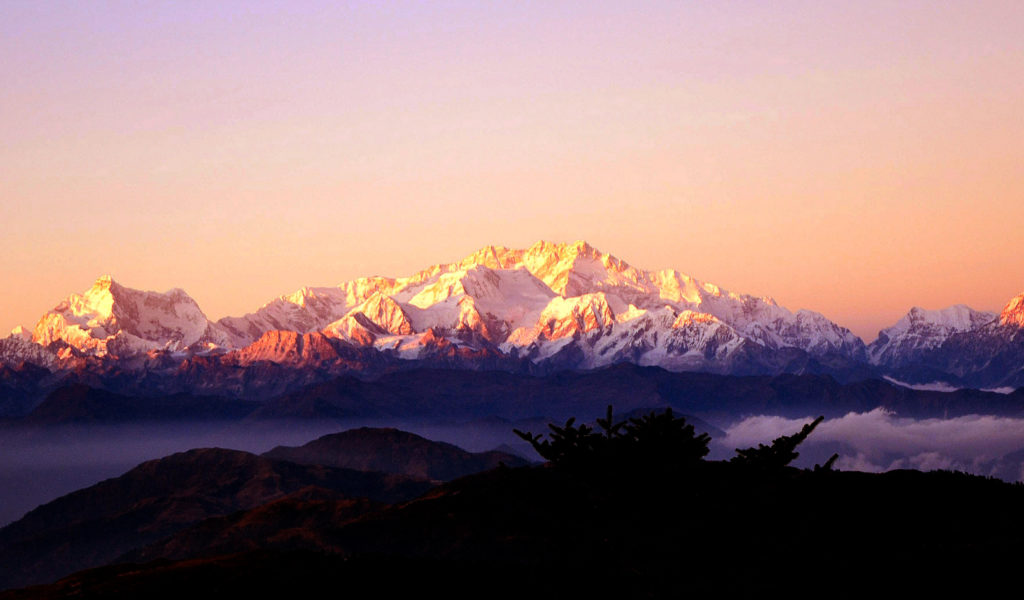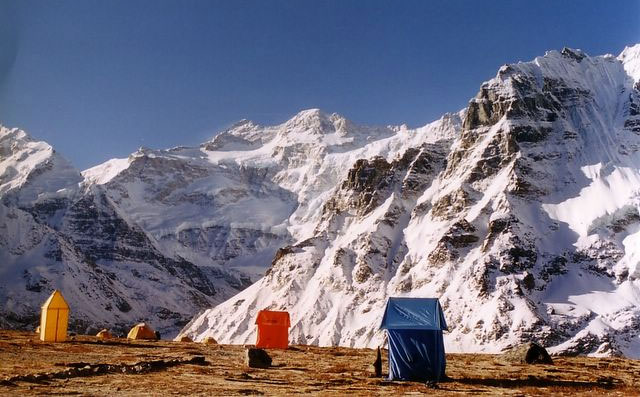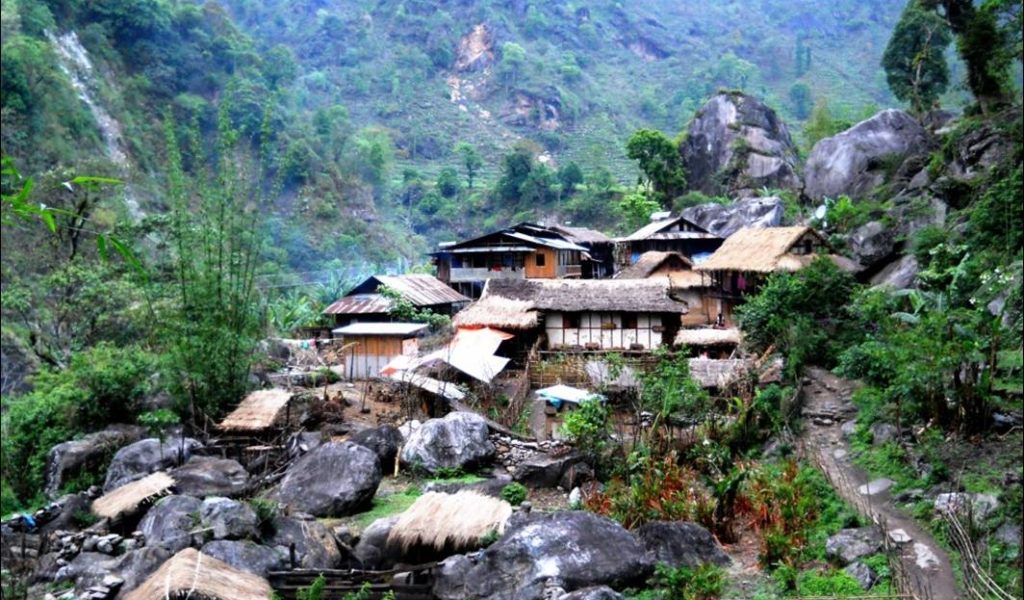 Reach to the base camp of the world third highest peak and one of the wildest trekking route in Nepal with 23 Days Kanchanjunga Trekking in Eastern Nepal.
Kanchanjunga trekking is suitable for those enthusiastic trekkers looking for challenging trek in Nepal following one of the wildest trekking trail in Eastern part of the country. Kanchangunja is third highest mountain peak in the world. This trek starts from Taplejung with exploring hilly settlements and finally reaches to both North Base Camp & South Face of the majestic Kanchanjunga. The glacial excursion around Ramche with spectacular view of Janu Himal also known as "Kumbakarna Mountain – sleeping mountain in local language is truly an unforgettable experience.
In 1979 British Mountaineer Pete Boardman stated that the walk to the base of Kanchenjunga was the most beautiful he had ever undertaken. It is a strong contender for "The most beautiful walk in the world."
The word Kanchenjunga comes from old Tibetan and translates to "Five treasures of snow." Local inhabitants have worshiped these holy mountains for as long as their stories go back in time. The five treasures are Gold, Silver, Precious Stones, Grain, and Holy Scriptures, referring to the five individual peaks of the Kanchanjunga Himal range.
Remember us to get best deals on trekking packages with professional services.
Duration:  23 Days
Primary Activity: Kanchanjunga Circuit
Group Size: 2 & above
Country: Nepal
Arrival on: Kathmandu
Departure from: Kathmandu
Trip Grade: Fairly Strenuous
Meals: Breakfast, Lunch & Dinner
Accommodation: Local Lodges/Tea House
Max Altitude: 5388 meters
Day 01: Morning, transfer to Kathmandu airport in time to board flight to Bhadrapur. Drive to Birtamode by local bus. Board a public bus to drive to Phidim. Lunch, Dinner & Overnight at Local Lodge
Day 02: Drive to Suketar & trek to Mitlung (921 m/5 Hrs Walk). Lunch, Dinner & Overnight at Local Lodge
Day 03: Trek from Mitlung to Chirwa (1,270 m/5-6 Hrs Walk). Lunch, Dinner & Overnight at Local Lodge
Day 04: Trek from Chirwa to Sukathum (1,576 m/5-6 Hrs Walk). Lunch, Dinner & Overnight at Local Lodge
Day 05: Trek from Sukathum to Amjilosa (2,308 m /6-7 Hrs Walk). Lunch, Dinner & Overnight at Local Lodge
Day 06: Trek from Amjilosa to Gyabla (2,730 m /6-7 Hrs Walk). Lunch, Dinner & Overnight at Local Lodge
Day 07: Trek from Gyabla to Ghunsa (3,595 m/5-6 Hrs Walk). Lunch, Dinner & Overnight at Local Lodge
Day 08: Acclimatisation day at Ghunsa. Lunch, Dinner & Overnight at Local Lodge
Day 09: Trek from Ghunsa to Kambachen (4,050 m/5-6 Hrs Walk). Lunch, Dinner & Overnight at Local Lodge
Day 10: Acclimatisation Day at Kambachen. Lunch, Dinner & Overnight at Local Lodge
Day 11: Trek from Kambachen to Lhonak (4,780 m/6-7 Hrs Walk). Lunch, Dinner & Overnight at Local Lodge
Day 12: Trek to Pangpema/Kanchenjunga North Base Camp (5,388 m/6-7 Hrs Walk). From here you will see majestic view of enjoy the splendor of Jannu, Kanchenjunga and Chang Himal. Lunch, Dinner & Overnight at Local Lodge
Day 13: Trek back to Kambachen (4,050 m/6-7 Hrs Walk). Today's trekking trail offer view of Kanchenjunga, Taple Shikhar, Gimmigela, and Mera Peak among others. Lunch, Dinner & Overnight at Local Lodge
Day 14: Trek from Kambachen to Ghunsa (3,595 m/3-4 Hrs Walk). Lunch, Dinner & Overnight at Local Lodge
Day 15: Trek from Ghunsa to Sele Le (4,290 m/6-7 Hrs Walk). Lunch, Dinner & Overnight at Local Lodge or Yak Hut
Day 16: Trek from Sele Le to Cheram (3,870 m/6-7 hrs). from Sinion la pass you will see excellent view of Janu Himal & Makalu mountain. Descend to Cheram and spend the night there. Lunch, Dinner & Overnight at Local Lodge or Yak Hut
Day 17: Trek from Cheram to Ramche (4,580 m). We will follow the stream before climbing on the moraine top until confronted by Kanchenjunga's southern face. We walk further ahead for a glimpse of the Jannu Himal. Return back to Cheram, 4-5 hrs. Lunch, Dinner & Overnight at Local Lodge or Yak Hut
Day 18: Trek from Cheram to Tortong (2,995 m/5-6 Hrs Walk). Lunch, Dinner & Overnight at Local Lodge
Day 19: Trek from Tortong to Yamphudin (2,080 m/6-7 Hrs Walk). Lunch, Dinner & Overnight at Local Lodge
Day 20: Trek from Yamphudin to Yangpang (1,007 m/6-7 Hrs Walk). Lunch, Dinner & Overnight at Local Lodge
Day 21: Trek Yangpang to Thorpu (1,500 m/5-6 Hrs Walk). Lunch, Dinner & Overnight at Local Lodge
Day 22: Morning drive from Thorpu to Birtamod. Lunch, Dinner & Overnight at Local Lodge
Day 23: Drive from Birtamod to Bhadrapur by public bus to board flight to Kathmandu. Upon arrival, drop at your hotel
Service Includes:-
23 Days Kanchanjunga Circuit trek using Local Lodges & Yak Hut as available
All meals during trek (Breakfast + Lunch + Dinner & tea/Coffee)
English speaking professional trekking guide for trek
Necessary Porter/s as required (2 Clients = 1 Porter) for trek
Kathmandu/Bhadrapur/Kathmandu round-trip airfare as applicable
Bhadrapur/Suketar & Tharpu/Bhadrapur transfer by local bus
Necessary airport & bus station transfers in Kathmandu
Kanchanjunga  National Park entrance fees
TIMS permit as applicable
Trekking Equipment such as  rain coat, water bottle, down jacket etc.
First Aid box
Guide's/Porter's:- Food, Lodge, bus, day wages, insurance, equipment etc.
Some dry fruits
Toiletries
Trekking map
Government taxes as applicable
Service Excludes:-
Accommodation, Sightseeing & any arrangements in Kathmandu which can be done on request with extra cost
Beverages and other extra arrangements during trek
Tips and gratitude for trekking crew (Recommended)
Extra arrangements and services not mentioned in cost includes section
| | | | |
| --- | --- | --- | --- |
| Name of the client | Travel Date | Nationality | Service Rating* |
| Mark Hsu | 13 Sep 2010 | China | Excellent |
| Shalu Lamba | 8 Sep 2011 | India | Excellent |
| Jacqui Rehman | 25 Oct 2011 | Australia | Excellent |
| Richard Wales | 01 Mar 2013 | UK | Excellent |
| Kelly Clark | 09 Apr 2014 | USA | Excellent |
| Holly Walker | 12 Oct 2015 | Belgium | Excellent |
| Peter Richard | 18 Mar 2016 | UK | Excellent |
| Shanti Valentino | 20 Apr 2016 | Italian | Excellent |