Paragliding in Pokhara Nepal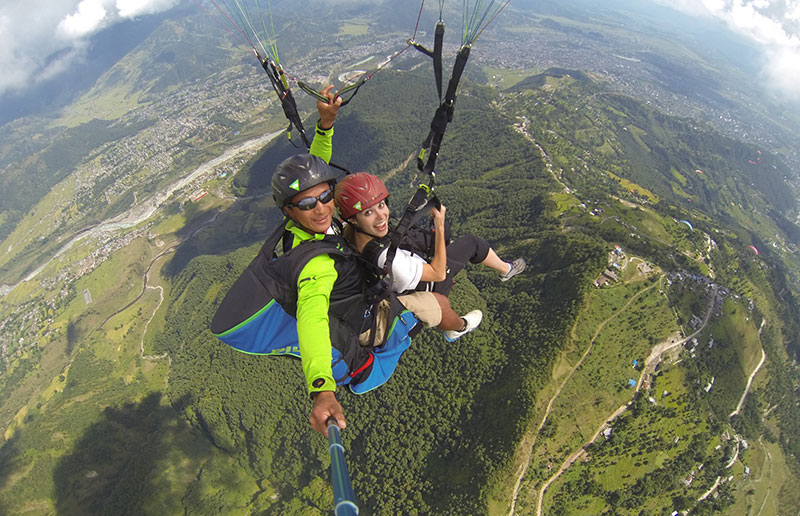 Enjoy Paragliding in Pokhara Nepal. Pokhara is best point to enjoy Paragliding due to superb mountain view, lakes and vivid landscape.
Glide over spectacular mountains with villages and monasteries perched on the hill tops, enchanting deep valleys, river gorges, and lakes on this paragliding adventure in Pokhara. Nepal is one of the world's best paragliding locations as there are always reliable updrafts to take you soaring for hours. The scenery is magic and unforgettable especially when viewed from a few hundred meters above.
On a perfect day, you will see dozens of paragliders soaring above Sarangkot, Pokhara, and Lake Phewa above some of the world's best scenery including a fantastic view of the majestic Himalayas.
Tandem flights include the services of qualified and experienced pilots. You may even have some hands-on practice at controlling the glider yourself under careful supervision.
In the morning after breakfast, drive to Sarankot Paragliding spot to meet the pilot. After an expert briefing you take-off with your pilot on the tandem Paraglider. The 30 to 45 minute flight affords unforgettable views of Annapurna Range, the beautiful Fish Tail, Annapurna South, Himchuli, Annapurna, Lamjung Himal, Manaslu, and the great Dhaulagiri. Afterwards, you will be met at the landing location on the lake shore and transferred to your hotel or back to Sarangkot for another flight.
Enjoy great mountain views as your soar through the sky
Take in an unforgettable view of Phewa Lake
Glide past breathtaking waterfalls, monasteries, and temples
Experience Nepal in a whole new way
Morning at 0930, pick up from your hotel located in Lakeside area in Pokhara. Drive to Sarangkot on sharing basis. Enjoy Paragliding. After landing, drop back to your hotel in Pokhara (Lakeside).
What's Included
Aerial photography and ecological monitoring of terrain
Transportation to and from the paragliding spot
Snowy Horizon souvenirs
What's Not Included
Personal expenses
Gratuities