Trishuli River Day Rafting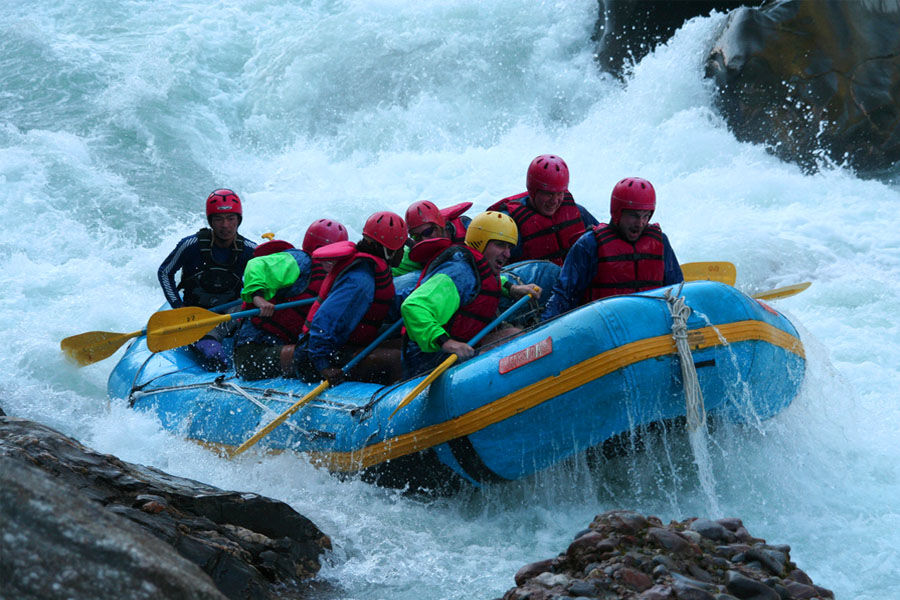 Enjoy Trishuli River day rafting from Kathmandu. White water in Nepal is popular adventure activities. Book a day excursion for rafting with best cost.
Nepal is ultimate platform for adventure activities. The landscape of Nepal suits for various adventure activities. Day rafting at Trishuli River is lifetime experience and the river section is suitable for both beginners for fun and moderate rafting for adventure junkies. The rafting can be count from grade 2 to grade on Trishuli River Day Rafting.
The rafting starting point at Trishuli River is located 3 hours drive from Kathmandu. Since this river is located on the way to Pokhara and Chitwan, you can combine this Trishuli River day rafting together while driving from Kathmandu to Pokhara/Chitwan or simple take as a day excursion from Kathmandu.
The distance from Rafting ending point to Pokhara is 3 hours and Chitwan is located with-in 2 hours drive. Normally the Trishuli River Day rafting starts at Chauradi. The total rafting time will be 3 hours.
Early morning you will walk to Kathmandu tourist bus station to board tourist bus to Chauradi. After river briefing with safety instructions by the river guide, you will set off at river to enjoy white water rafting with proper safety measures and equipments. Our prority will be always safe and enjoyable rafting experience. We provide quality river guide with all en-suit facitilies and equipements require for the same.
For the most of the year the rapids encountered on the Trisuli are straightforward, easily negotiated and well spaced-out. Trisuli River is an excellent river for those looking for a short river trip, without the challenge of huge rapids, but with some really exciting rapids, with beautiful scenery and a relatively peaceful environment. During the monsoon months the intensity of the rapids increases and attracts a radically different set of rafters. But there are sections for rafting during the monsoon for those who are looking for simply exciting trip!
Book Day rafting at Trishuli river with us in best cost.
Enjoy rafting on the Trishuli River
Enjoy the scenery of river Trishuli with small gorges and a glimpse of the cable car leading to the famous Hindu Temple Manakamana
Relax at a beach with strange shaped boulders that resemble sculptures and enjoy lunch there
Paddle down the river and pass by the Trishuli gorge
Day 01: Early morning you will get picked up from your hotel lobby to go to Kathmandu Tourist bus station. Broad the bus going to Pokhara or Chitwan. After 3 hours drive, you will reach to Charaudi the rafting starting point. Your rafting crew will be waiting at at Charaudi. After rafting briefing, you will set inside river for 3 hours rafting. After rafting you will be provided lunch at river beach or restaurant. After rafting, you can continue for your drive to Pokhara or Chitwan or can come back to Kathmandu for overnight stay. We will arrange bus on sharing basis for return leg.
Includes:-
Tourist bus from Kathmandu to Charaudi and back with option for Pokhara/Chitwan
Rafting at Trishuli river with professional river guide
Safety equipment