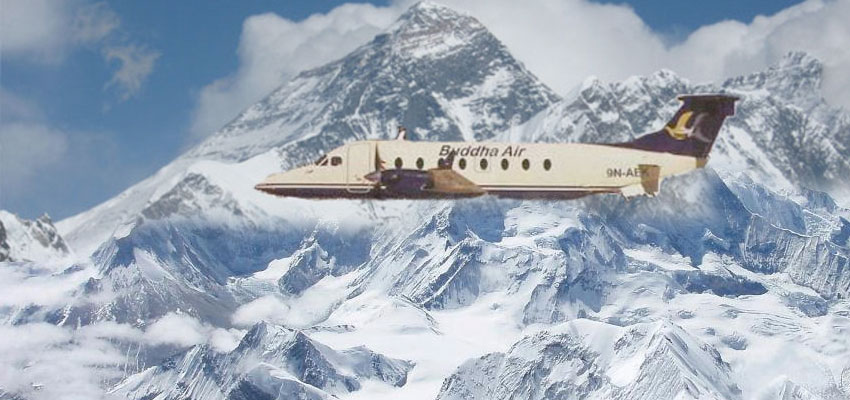 Book 1 hour Everest Mountain Flight in Kathmandu with the best cost. Enjoy aerial view of Mount Everest and all other major highest mountain peaks in Nepal.
Everest Experience Mountain Flight is truly unique experience in Nepal. Everest Mountain flight departs early morning from Kathmandu domestic airport on scheduled small aircraft operated by domestic Nepal airlines.
Nothing compares to the sheer beauty or awe, the Himalayas has to offer.  Take the mother of all mountain flights, the Everest Experience where we put you, one on one with Mt. Everest, so close that you can almost touch it.
Once the Everest Mountain flight takes off from Kathmandu airport, on far left you will see Langtang and Shisha Pangma – 8,013 m. Immediately to the right appears Dorje Lakpa (6,966 m), a mountain that looks like the number 8 lying down and covered with snow. To the right of Dorje Lakpa is Phurbi-Ghyachu, which looms over the Kathmandu Valley.
As the plane moves along, the mountains come closer and closer. Next on the vision is Choba-Bhamare, the smallest one of the lot at 5,933 m but singularly stubborn as it has never been climbed. Then appears the mountain that is not only prominent in sight but also in spiritually – Gauri-Shankar.
As the plane moves towards the land of the rising sun, the eastern Himalaya a succession of glorious mountains follows. Melungtse, a Plateau – like mountain stretches up to 7,023 m, Chugimago at 6,297 m is still a virgin, waiting to be climbed. At 6,956 m, Numbur mountain resembles a breast, maternal source in the sky providing pure milk to the Shepas of the Solu Khumbu. Next is Karyolung, an intensely white mountain that at 6,511 m gleams with the rising sun. Cho-Oyu is the eighth highest mountain in the world. Reaching a height of 8,201 m, it appears stunningly beautiful from the aircraft.
Next is Gyanchungkang, at a majestic height of 7,952 m, considered an extremely difficult climb. To the right of Gyanchungkang is Pumori (7,161m). As get closer to Everest,  Nuptse (7,855 m) apprears, which means West Peak, signifying its direction from Everest. Finally, there's Everest (8,848m) itself, known as Sagarmatha by the Nepalese and Chomolungma by the Tibetans. Much has already been written about Everest, but to actually witness it face to face during a mountain flight is something else. On the eastern side you will see Makalu and extreme far Kanchanjunga and Janu peak dominate the sky.
We guarantee WINDOW SEAT for our guests on Everest Mountain Flight. Come and enjoy sky trek in Nepal in affordable cost.
Tour Type: Adventure
Duration: 1 Hour
Place: Kathmandu
Morning pick-up from hotel in Kathmandu. Drive to Kathmandu domestic airport to board Everest Experience Mountain flight. After flight, transfer back to your hotel.
Service Includes:-
Everest Mountain Flight airfare as applicable
Domestic taxes
Transfer from Hotel/Airport/Hotel
| | | | |
| --- | --- | --- | --- |
| Name of the client | Travel Date | Nationality | Service Rating* |
| Mark Hsu | 13 Sep 2010 | China | Excellent |
| Shalu Lamba | 8 Sep 2011 | India | Excellent |
| Jacqui Rehman | 25 Oct 2011 | Australia | Excellent |
| Richard Wales | 01 Mar 2013 | UK | Excellent |
| Kelly Clark | 09 Apr 2014 | USA | Excellent |
| Holly Walker | 12 Oct 2015 | Belgium | Excellent |
| Peter Richard | 18 Mar 2016 | UK | Excellent |
| Shanti Valentino | 20 Apr 2016 | Italian | Excellent |