10 Days Mardi Himal Base Camp Trekking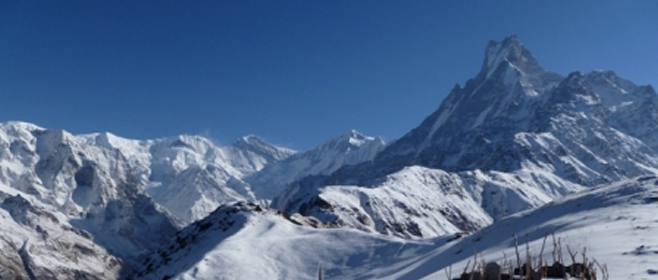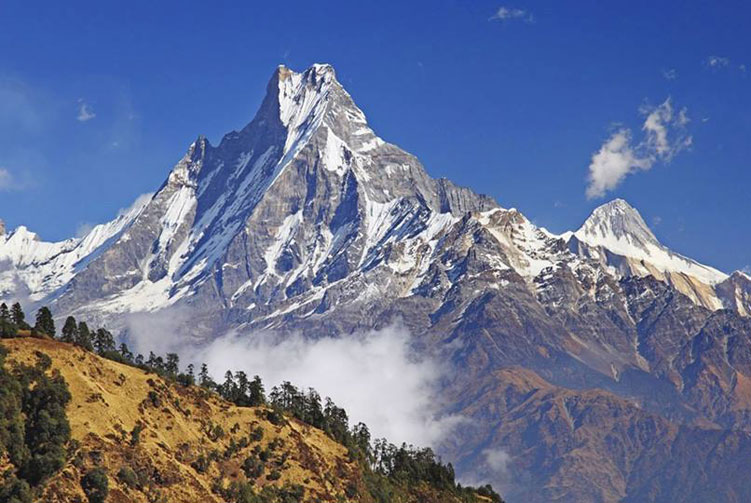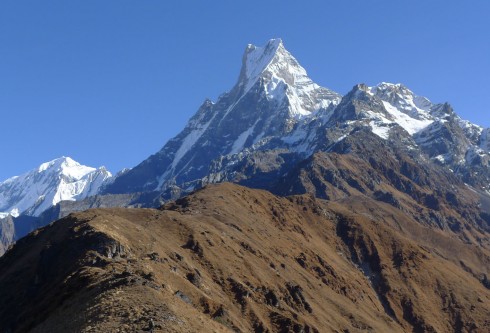 10 Days Mardi Himal Base Camp Trekking offer unique experience trekking in newly opened trekking route in Nepal in Annapurna Area.
Mardi Himal Base Camp Trekking route is considered as an alternative of Annapurna Base Camp. This trek is suitable for those trekkers who wish to explore Annapurna area on new opened trek who already done Annapurna Base Camp. The trail goes along small winding paths, through magical rhododendron forests until you climb out of the forest at an elevation around 3,300 m. The landscape changes quite abruptly into a rugged high mountain landscape, with amazing views of Mardi Himal, Machapuchre, Annapurna South and Hiunchuli.
From High Camp (3580 m) you can climb up to Mardi Himal Base Camp in about 3-4 hours, which offers spectacular close up views of the entire Annapurna Range.
Mardi Himal Trekking route was not popular earlier due to unavailability of lodges and proper route. However now this trekking route serve with basic local lodges and Tea Houses.
Mardi Himal is located to the east of the Annapurna Base camp virtually under the spectacular Machhapuchhre (Fishtail). As you trek along the ridge it's nearly possible, but imaginable, to look down at Annapurna Base camp itself. Mardi Himal Trekking is sandwiched between two popular treks; Annapurna Base Camp Trek and Ghorepani Poon Hill Trek. Mardi Himal Trek is hided trekking route among most visitors coming to Nepal every year thus only small numbers of trekkers make their way to Mardi Himal Base Camp each year. Mardi Himal Base Camp is situated under the glorious Machhapuchhre peak. The trail also includes several hours walking inside rhododendron forests that look tremendous during March – April. The views along the route are impressive; includes Annapurna South, Machhapuchhre, Mardi Himal and Hiunchuli. More than that, upper view point offers spectacular close views of the whole Annapurnas. The route is pretty quite during the whole year comparing to popular routes of Annapurna region.
Mardi Himal Trekking is a classic trekking route to give you taste of unspoiled culture and villages. Come and enjoy 10 Days trekking at Mardi Himal Base Camp trek with us.
Duration: 10 Days
Primary Activity: Mardi Himal Base Camp
Group Size: 1 & above
Country: Nepal
Arrival on: Kathmandu
Departure from: Pokhara
Trip Grade: Moderate
Meals: Breakfast, Lunch & Dinner
Accommodation: Local Lodges/Tea House
Day 01: Drive Kathmandu to Pokhara by Tourist Bus
Morning, walk to Kathmandu tourist bus station to board schedule tourist bus to Pokhara. Upon arrival, transfer to your hotel.
Overnight at Hotel in Pokhara
Day 02: Drive Pokhara to Kande – 45 minutes drive. Trek to Pothana (1950 m.) – 4 hours walk
Our journey begins with a 45 minutes drive from Pokhara to Kande which is the starting point. The trail is good, first slowly up, then a bit steeper to Australian Camp (2060m – About one hour), then after that slightly downhill to Pothana (1950m). You have to climb up the stone stairs passing through terraced cultivated fields, settlements and forests taking you to Pothana where you will have great mountain views of the Annapurna Range.
Lunch, Dinner & Overnight at normal tea house or lodge
Day 03: Trek Pothana to Forest Camp (2500 m.) – 7 hours walk
On the following day, we walk on the plain way for around one hour then there is a right turn in Deurali sign posted "Forest Camp" the trail is through Pine forest. The Forest is covered with the most unique flower called Rhododendron. At first, we have to walk up undulating on the top of a ridge, there is a section just over half way where the trail drops steeply and then slowly gains height and then back onto the ridge and into Forest Camp.
Lunch, Dinner & Overnight at normal tea house or lodge
Day 04: Trek Forest Camp to Low Camp (2990 m.) – 4 hours walk
Leaving forest camp, we trek towards Low camp. Initially, the trail is quite steep leaving Forest Camp but soon gets less steep as we get towards the ridge. We can see the most amazing and clear view of Mt. Fishtail here. After about four hours walk, we reach low camp where we will spend our overnight.
Lunch, Dinner & Overnight at normal tea house or lodge
Day 05: Trek Low Camp to High Camp (3580 m.) – 4 hours walk
From Low camp; our trail passes through the jungle ways again. But the trees soon start to get smaller and after about one hours trekking broke out of the jungle and onto the open ridge with spectacular views of Machhapuchhre ahead and Annapurna South to our left. In between the journey of Low camp and High Camp there is a place called View Point where you can see various snow-capped mountains and villages like South Annapurna, Himchuli, Chhomrong Village, Ghandruk Village, Mt. Fishtail, Annapurna region, flora and fauna, beautiful village view, alpine forest, Gurung and Thakali culture, eco friendly villager as well as the least touristy trek. We will be walking around 4 hours through a series of steep, rocky climbs separated by leisurely walk through lush, green, High Mountain before reaching High Camp.
Lunch, Dinner & Overnight at normal tea house or lodge
Day 06: Trek Mardi Himal Base Camp (4450 m.) and back to High Camp – 8 hours walk
Commencing trek from High camp, we climb up about four hours to Mardi Himal Base Camp which offers spectacular views of the entire Annapurna Range. It is also possible to return to high camp in around 4 hours which make it a long day walk. There is also a viewpoint approx half way where imaging view can be seen.
Lunch, Dinner & Overnight at normal tea house or lodge
Day 07: Trek High Camp to Siding village (1885 m.) – 7 hours walk
Wake up early in the morning to have the most precious Sunrise view. Have your breakfast at High camp and descend towards Siding village. Siding is a simple traditional local village. Walking back straight descend to the same fine forest you can again see the beautiful red Rhododendron forest.
Lunch, Dinner & Overnight at normal tea house or lodge
Day 08: Trek Siding Village to Lwang Village (1460 m.) – 5 hours walk
On the following day, we leave Siding village and continue our trek towards Lwang which is gradual up and some were flat too. On your way to Lwang you reach a place called Ghalel, where you can have your lunch. Ghalel is a small traditional village with some small restaurants and home stay. After lunch again start up walking towards Lwang. Lwang is also a traditional old village. There is tea garden and ACAP office with some home stay for you to stay overnight. At the night time at your home stay the mother group will welcome you by singing and dancing in some folk songs.
Lunch, Dinner & Overnight at normal tea house or lodge
Day 09: Trek Lwang Village down to Khora muk (1 hour walk) and drive back to Pokhara (2 hours drive)
Today is the last day of our trek. Early morning walk to tea garden to see the panoramic view of green tea garden and also the view of mountains. After that come back to Lwang for breakfast and walk towards Khora muk. The trail leads us though the bank of Mardi River. After reaching Khora muk transfer to Pokhara. After you reach Pokhara, check-in at hotel.
Overnight at Hotel in Pokhara
Day 10: Tourist Bus from Pokhara to Kathmandu
Transfer to Kathmandu airport in time to board tourist bus to Kathmandu. Upon arrival, transfer o your hotel.
Service Includes:-
2 nights at Hotel in Pokhara with breakfast
8 Days Mardi Himal Base Camp Trek using Local Lodges
All meals (Breakfast + Lunch + Dinner) for 8 days Trek
Necessary bus station transfers in Kathmandu & Pokhara
Kathmandu/Pokhara/Kathmandu by tourist bus on sharing basis
Necessary surface transfer using private vehicle in Pokhara
An English speaking trekking guide & necessary porter for 8 Days Trekking
Annapurna Conservation Area Permit Fee
TIMS fee as applicable
First Aid Box
Trekking crew expenses such as food/lodge/Insurance
Sleeping bad & Duffel bag
Government taxes as applicable
The above cost excludes personal expenses, insurance, hot water, hard & soft drinks.